Cheesy broccoli chicken and rice casserole
Cheesy broccoli chicken and rice casserole made by this delectable broccoli and cheddar cheese-topped chicken and rice casserole! Everything in this one-pot meal recipe is wonderfully creamy and warm.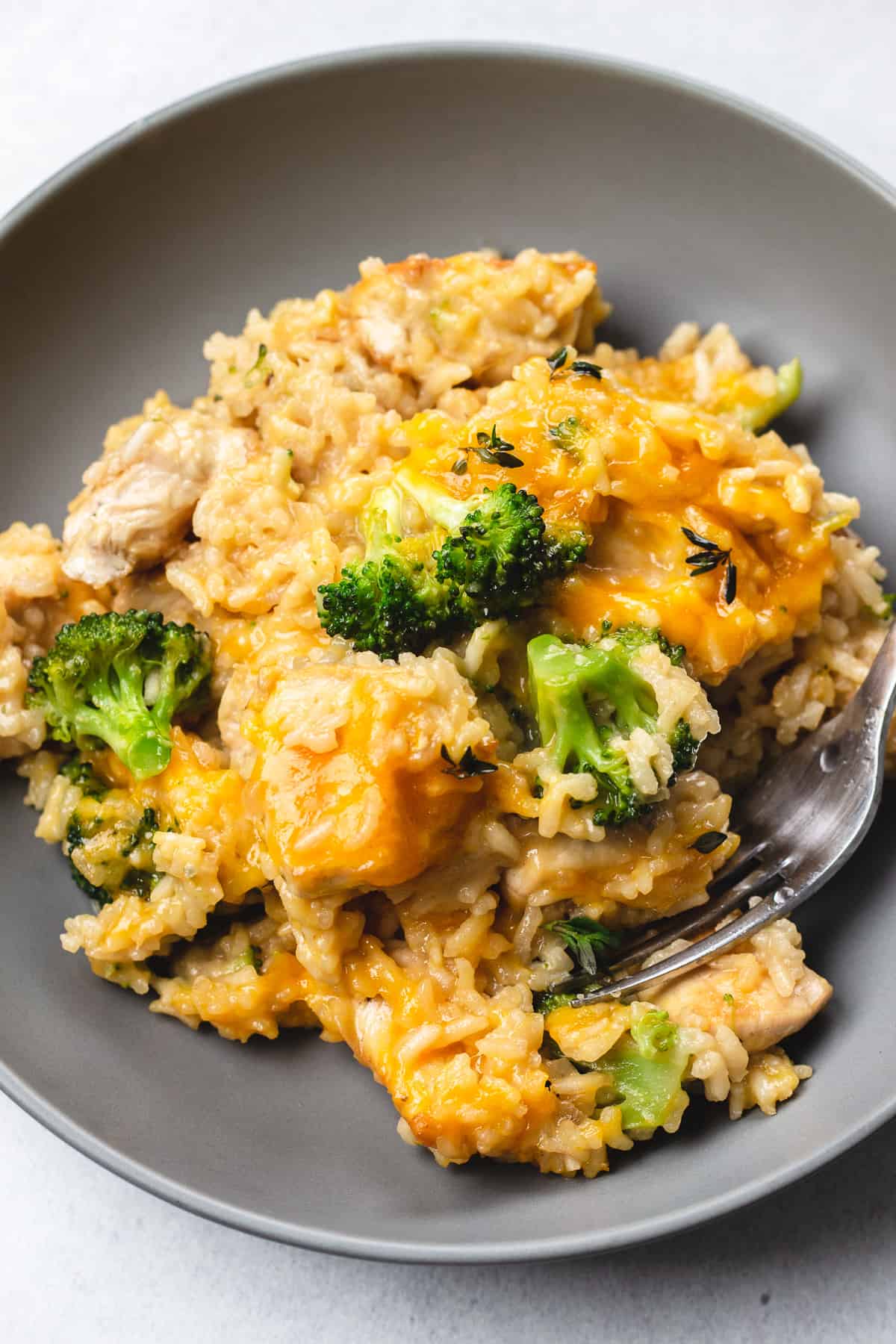 Making the entire dinner in one pot is the best possible option! Even a novice cook can easily prepare this chicken and rice dish, which is also laden with broccoli and pungent cheddar cheese.
You may prepare this dish with the least amount of effort, just like my Healthy Chicken Dinner Ideas recipes for Chicken Broccoli Ziti and One Pot Chicken and Rice.
Why you will love Cheesy broccoli chicken and rice casserole?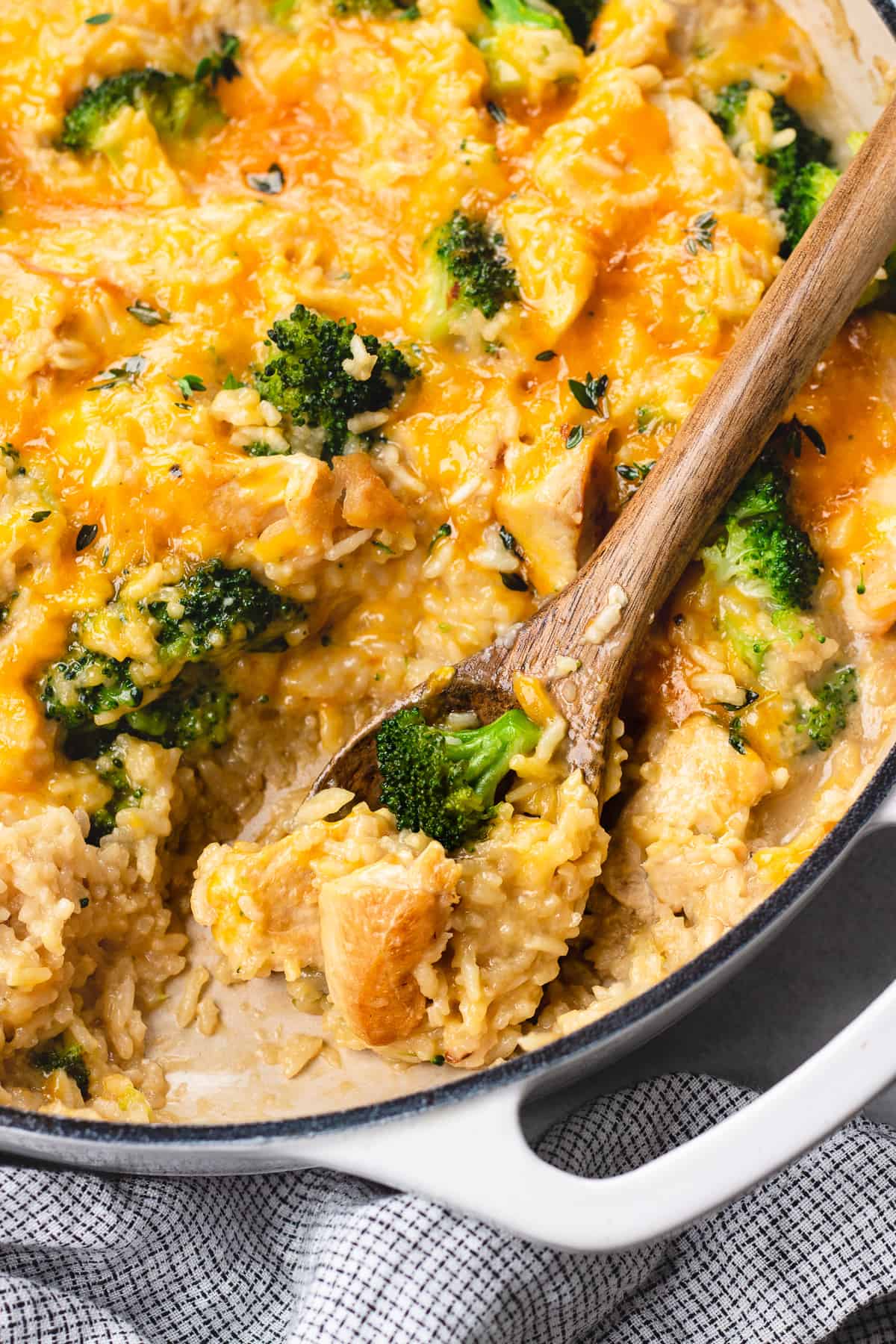 The meal in a PotOne pot is used to make everything! There's no need to wash multiple pots and pans for the remainder of the evening!
Simple to make. The cooking time ought to take not over a little ways from beginning to end. Additionally, each step is straightforward.
So reassuring and silly. When you want something warm and cozy but want to keep it healthy, this is a great meal.
Cheesy broccoli chicken and rice casserole Ingredients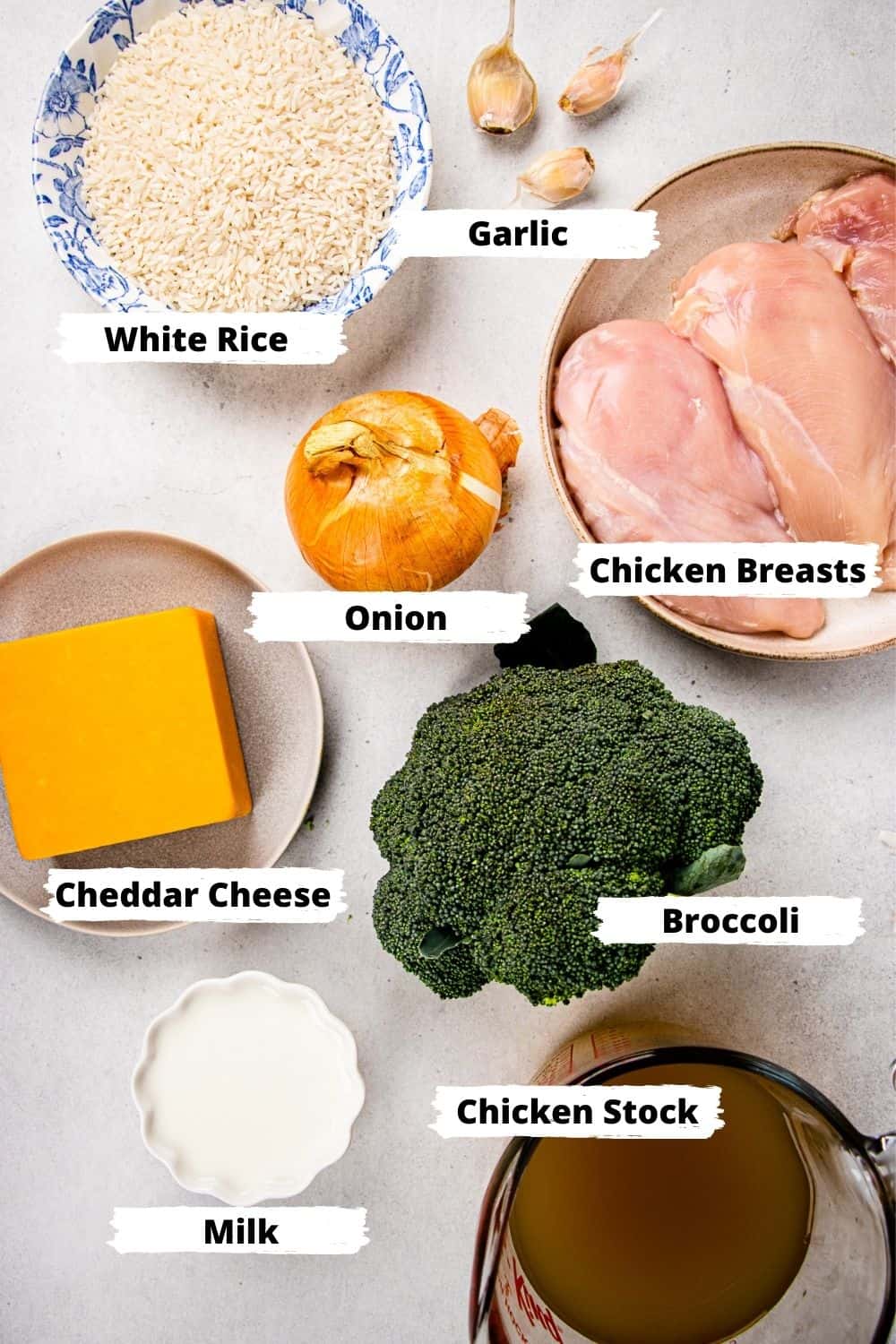 1 pound chicken breasts diced into 1-inch cubes
1 small onion finely chopped
2 minced garlic cloves
1 1/2 cups washed white long grain rice
2 cups chicken stock
2 cups water
3 cups chopped broccoli florets
1/2 cup milk
2 cups shredded sharp cheddar cheese, divided.
Instructions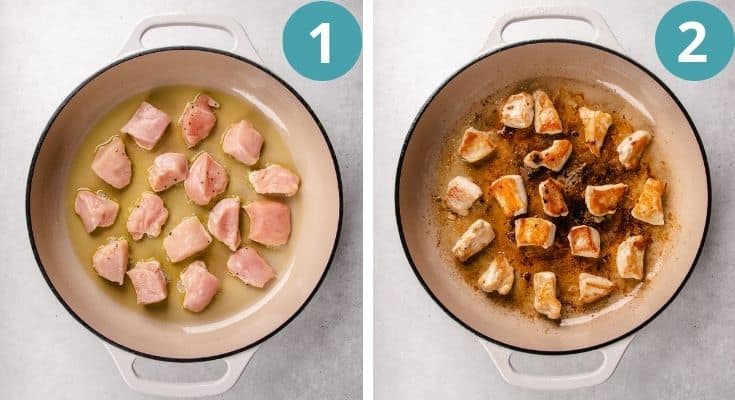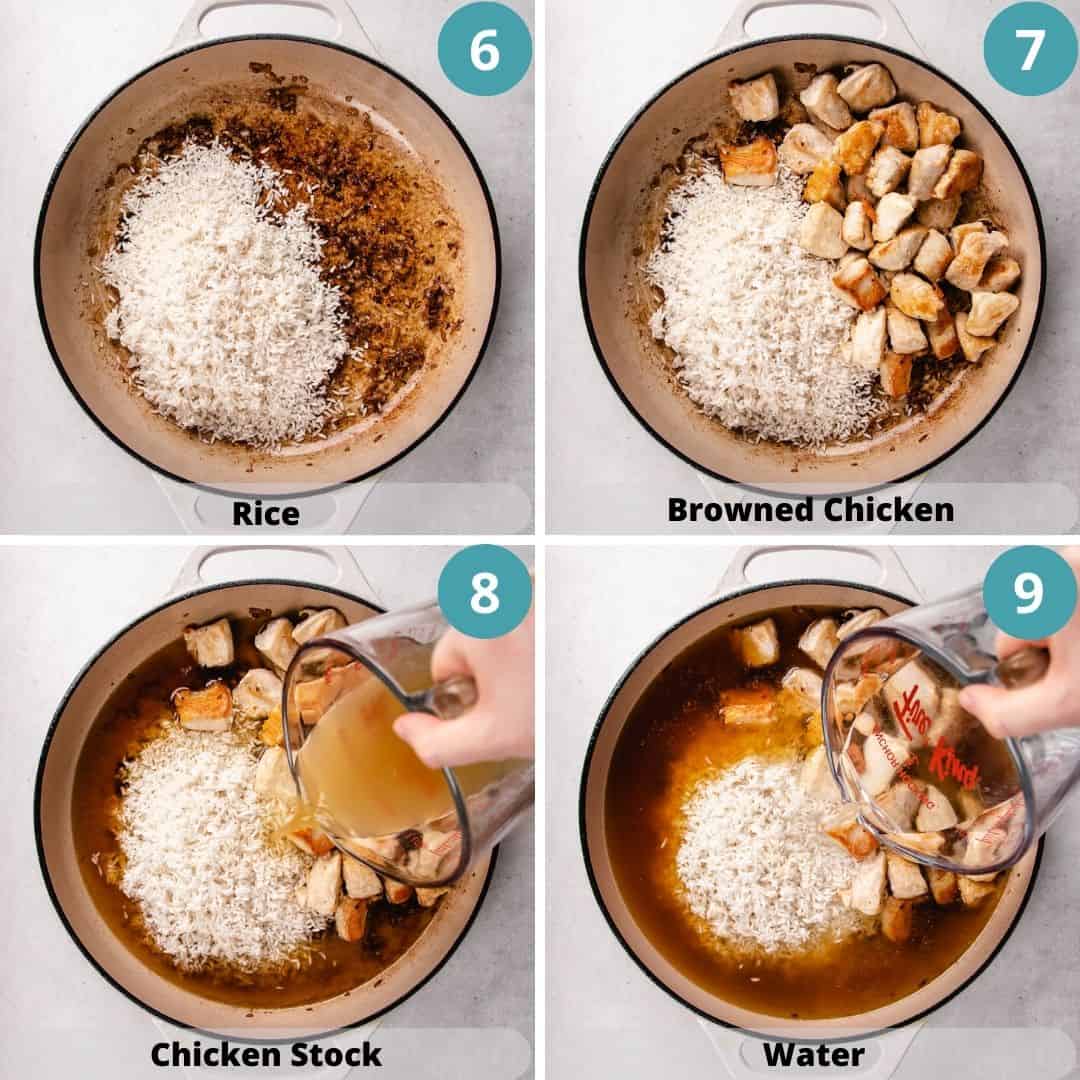 Cut the chicken breasts into cubes that are 1 12 inches long. Mix it up and season it with salt and pepper.
Add olive oil and heat the pan to medium-high heat.
Add the chicken to the hot oil and brown it on all sides for 5-7 minutes.
NOTE: Right now, we don't have to cook the meat through, as it will complete the process of cooking later. We simply require a brown crust for flavor enhancement.
NOTE: You can brown the chicken in two batches if you have a lot of it. If you overcrowd the pan, the food will begin to boil rather than brown.
Transfer the browned chicken to a plate and set it aside.
Cook the chopped onion for about 5 minutes, or until it becomes soft and translucent, stirring frequently. To release the aroma, add the minced garlic and stir for about 30 seconds.
Back into the pot, add the browned chicken.
Rinsed rice, chicken stock, and water can now be added. Bring everything together and to a boil. Then close the lid and turn the heat down to low.
Stir in the chopped broccoli after ten minutes. Return the lid and cook, stirring occasionally, until the rice is fully cooked.
The oven should be heated to 425°F.
Stir the milk into the cooked rice. After that, fold in one cup of shredded sharp cheddar.
Place the pan in the oven for about 10 to 15 minutes, or until the cheese is melted and bubbling, and then sprinkle the remaining cheese on top.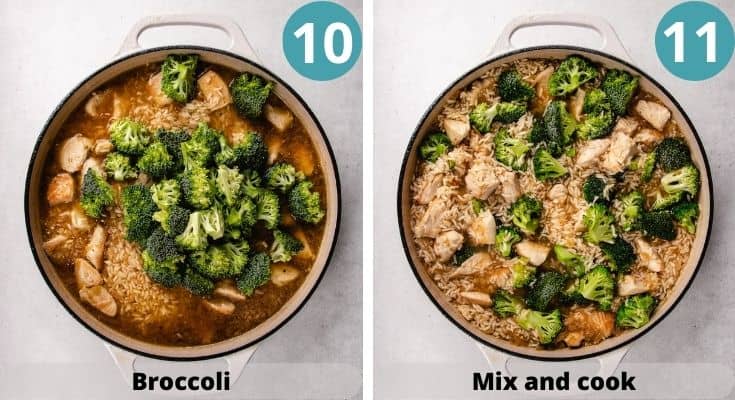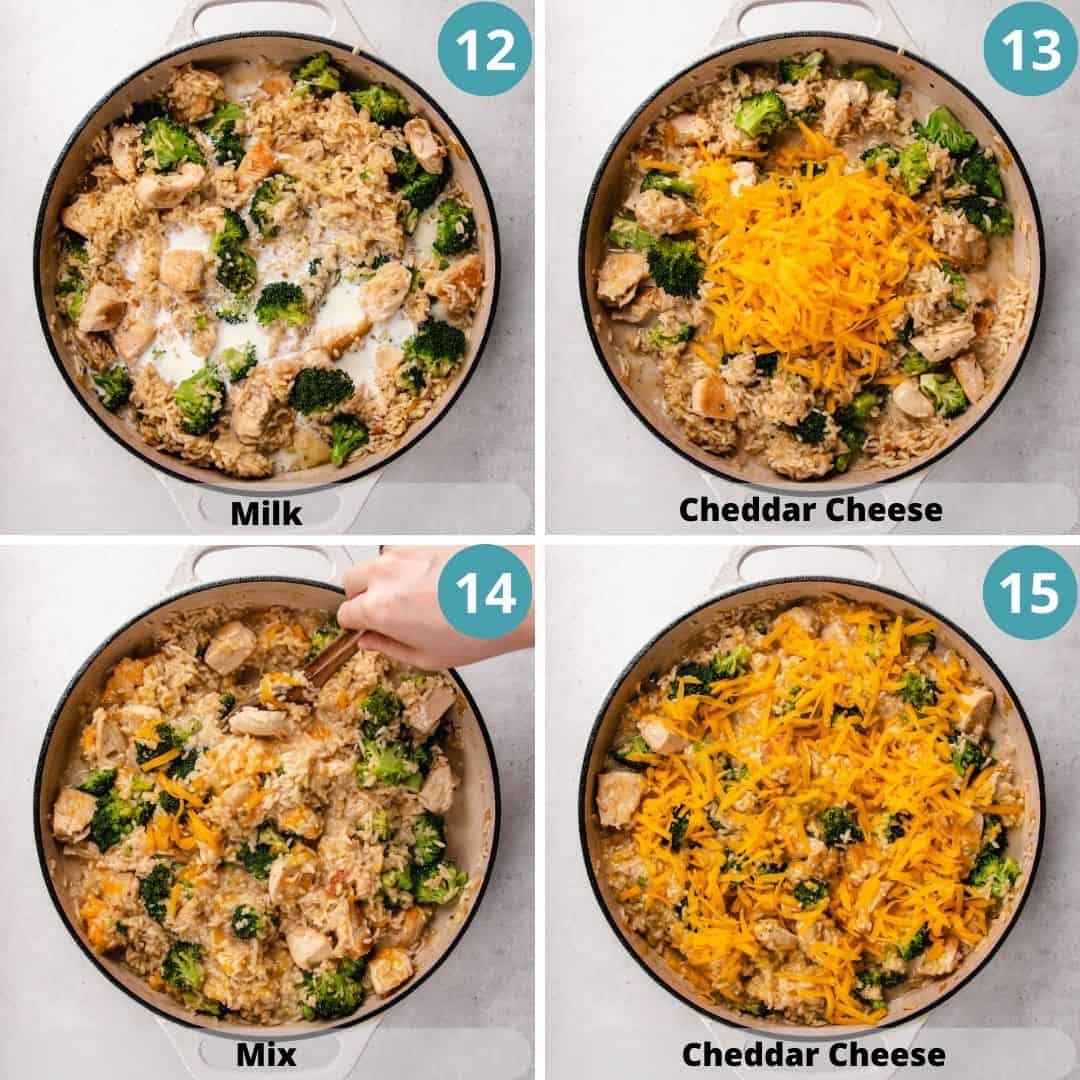 Notes:
When making this recipe, I like to use a heavy-bottomed pan like this casserole so that it won't burn and you can safely bake it.
I like to brown the meat in two batches so that it doesn't lose its juices and turns a lovely golden color.
Also, don't touch the meat when you put it on the pan until you're ready to flip it that contributes to improved browning.
Before adding the frozen broccoli to the pot, let it defrost for 20 to 30 minutes.
Can I prepare it in advance? Yes! You can make it ahead of time and refrigerate it overnight without the cheesy topping. After about 20 minutes on the counter, sprinkle cheese on top, and bake until ready to serve. Bake for about 15-20 minutes at 350°F.
I'm going to use what kind of rice. White rice with long grains, like Basmati, should work best. Arborio, which is used to make risotto, will also work and be even creamier. Brown rice isn't a good choice because it takes longer to cook.
How can I store? Transfer it to a sealed container once it has completely cooled. It can be kept for about two days in the refrigerator.
Nutrition
Serving: 
1
serving
 | 
Calories: 
472
kcal
 | 
Carbohydrates: 
46
g
 | 
Protein: 
33
g
 | 
Fat: 
17
g
 | 
Saturated Fat: 
9
g
 | 
Cholesterol: 
92
mg
 | 
Sodium: 
467
mg
 | 
Potassium: 
651
mg
 | 
Fiber: 
2
g
 | 
Sugar: 
4
g
 | 
Vitamin A: 
717
IU
 | 
Vitamin C: 
43
mg
 | 
Calcium: 
343
mg
 | 
Iron: 
1
mg