Cheesy Scalloped Potatoes
Look away if you don't want gooey, gooey cheese to coat every crevice of your scalloped potatoes. The ideal cheesy scalloped potatoes!
Cheesy Scalloped Potatoes Ingredients:
1 onion cut into rings
4 russet potatoes cut into quarter-inch slices
salt and pepper to taste,
3 teaspoons butter
3 tablespoons all-purpose flour
1/2 teaspoon kosher salt
2 cups whole milk
112 ounces shredded Cheddar cheese
3 tablespoons butter.
Instructions
Heat the oven to 200°C (400°F).
Butter a casserole dish that is 8 by 8.
Spread the potatoes and onions out in the baking dish that has been prepared.
To taste, season with salt and pepper.
Melt the butter in a medium saucepan over medium heat. Blend in the flour and salt, and mix continually with a race briefly. Mix in the milk. Cook the mixture until it thickens.
Add the cheese one at a time and keep stirring until it is smooth and melted, about 30 to 60 seconds.
Cover the dish with aluminum foil and spread cheese over the potatoes.
Bake for 1.5 hours (90 minutes).in a preheated oven
Before removing the dish from the oven, switch the setting to broil for five minutes to create a crisp topping.
The Difference Between Scalloped and Au Gratin Potatoes
Why are scalloped and au gratin potatoes so often misunderstood? Their similarities are striking. Let me explain why we are able to use the name cheesy scalloped potatoes for our dish. In essence, we are combining the best elements of both dishes.
Sliced potatoes are layered in a casserole dish and baked with heavy cream and a lot of herbs in a traditional scalloped potato dish. On the other hand, grated cheese is sprinkled between the layers of a traditional Au Gratin Potato dish, creating a cheesier, more indulgent dish. The potatoes in both dishes are cut into rounds; however, the potatoes in scalloped potatoes are typically cut a little bit thicker than in au gratin potatoes.
Ham and Cheesy Scalloped Potatoes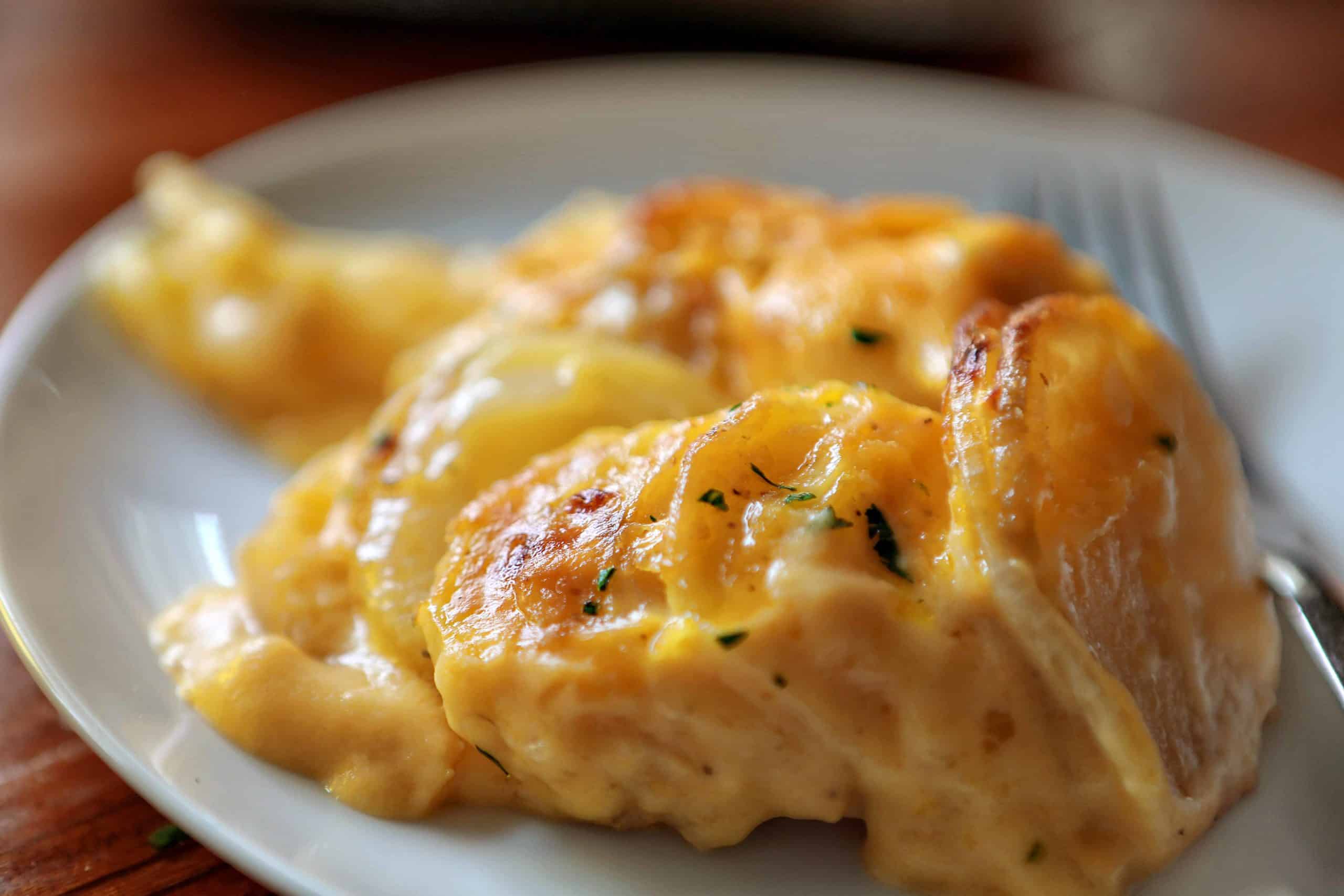 There have been so many inquiries about mixing this with ham. I have no doubts. Ham would be a fantastic addition to this. Maybe I'd cut it into cubes and place it in between the rows of potatoes. Really, all you need to do is include it in the ingredients list; the remainder of the recipe will work just fine without it. That would transform this from a side dish into a main course contender!