CHINESE CHICKEN FRIED RICE
Chinese Chicken Fried Rice is quite simple to prepare at home. Simply marinate the chicken and set it aside while you prepare the remaining ingredients. Once your sauce is prepared, set it aside. After frying your chicken in a hot wok, turn off the heat. Fry the vegetables, egg, and aromatics in the pan once more. Rice is then added and mixed, then sauce, and finally chicken. There you go!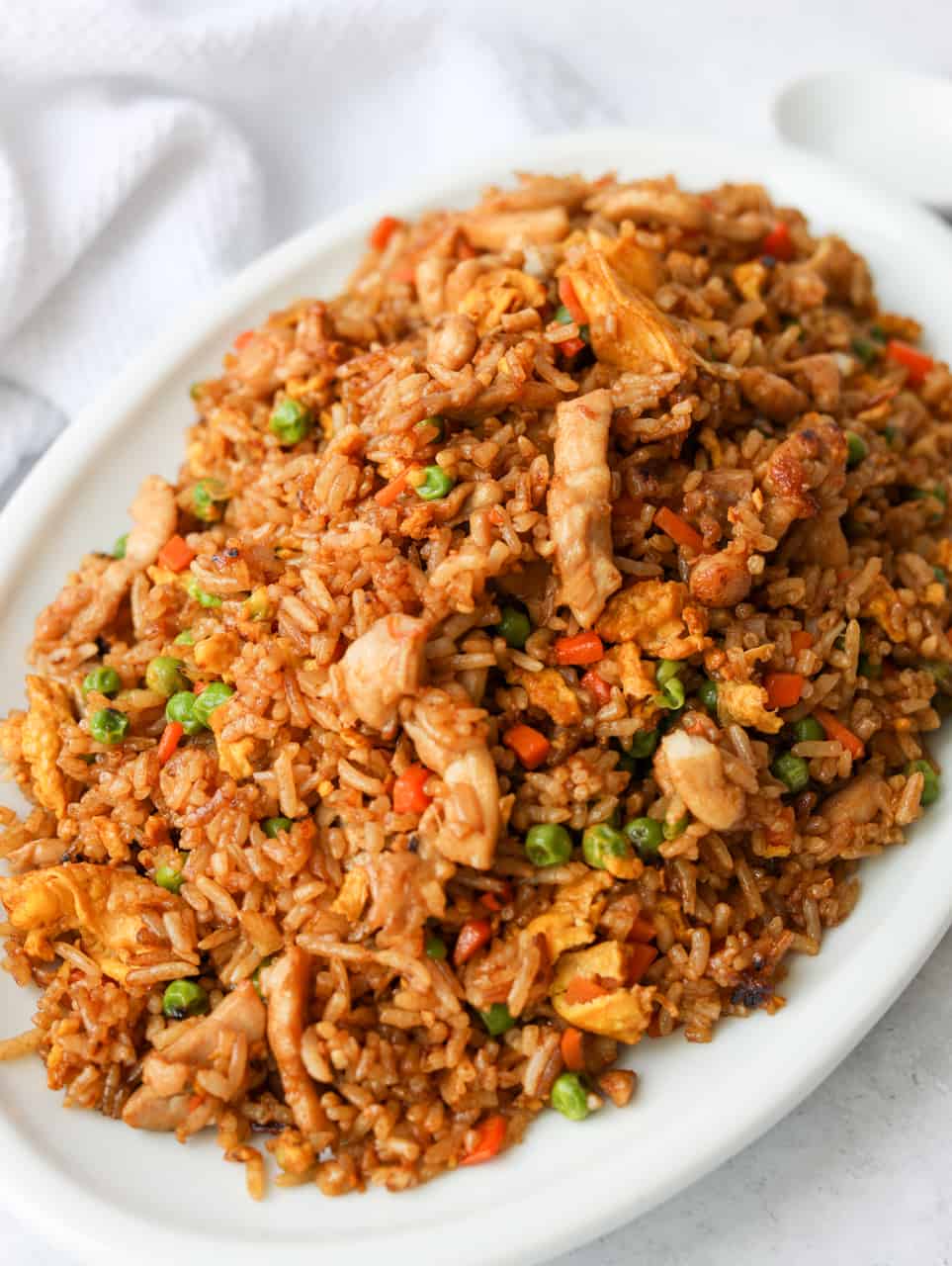 If there are any leftovers, they make tasty lunch or dinner leftovers as well! Rice is prepared in about 30 minutes.
Chinese Chicken Fried Rice Ingredients
4 12 cups day-old cooked jasmine rice; note the quantity of uncooked rice.
1/2 lb of thinly sliced boneless, skinless chicken thighs
1 shallot, chopped finely
1/4 cup of finely sliced carrot and 3 minced garlic cloves
1/2 cup frozen peas
3. beaten eggs
4 teaspoons vegetable oil or another oil with a neutral flavor
Chicken marinade:
Regular soy sauce, 1 teaspoon not soy sauce, either light or dark!
1 teaspoon Shaoxing cooking wine, or dry sherry wine in place of it
1 teaspoon cornstarch
1 teaspoon vegetable oil
Sauce:
Regular soy sauce, 2 tablespoons not soy sauce, either light or dark!
12 tablespoon dark soy sauce
1 teaspoon sesame oil
Chicken bouillon powder, 1 teaspoon (aka chicken stock powder)
1/8 tsp. white pepper, or use black pepper instead
Instructions
For five minutes, marinate your sliced chicken. Set aside after removing from heat.
Pre-mix the listed sauce ingredients in a bowl. Place aside.
Add one teaspoon of oil to a hot wok set over medium-high heat. Fry chicken until it is cooked through when the oil is hot. Take away and put aside.
Fry shallots and garlic in 1 tablespoon of oil for 10 seconds, or until soft. Add the carrots and peas quickly, and fry for another ten seconds, or until they become soft. Move everything to the wok's side.
Place one teaspoon of oil into the empty wok space. Before adding the other ingredients to the wok, pour in the eggs and scramble them.
Toss the rice with the remaining oil and the ingredients. Reintroduce the chicken.
Pour the sauce all the way around your rice along the edges of the wok—the combination of heat and sauce adds more flavor than pouring it on top of the rice. Mix until all of the rice granules have a brown color. Turn off the heat. Serve and have fun!