Old Bay Shrimp Burritos
Old Bay Shrimp Burritos -These were really amazing. I wanted to recreate the shrimp burrito I had at the neighborhood Mexican restaurant, and this recipe is spot on. The nicest burrito I've ever eaten in my life was one I even created, wrapped in foil, and stored in the refrigerator for two days. The night I intended to eat it, I simply placed it on a flat pan and browned each side.
No prank! Although I did not use avocado slices or cheese, I did use pico and shredded lettuce, and it was absolutely delicious. Make sure to taste the aioli before making it, and if you want to add more garlic powder, add more. You should also put some old Bay on your burrito. In addition, I substituted half a jalapeno for a bell pepper in the shrimp filling and a quarter of a jalapeno in the pico de gallo. If you get the pico de gallo, the rice, the beans, and the aoli right in this recipe, you'll have the best burrito you've ever had.

Old Bay Shrimp Burritos Ingredients
FOR OLD BAY AIOLI
Mayonnaise, 1/3 cup
1 1/2 tsp. Sriracha
fresh lime juice, 3/4 tsp.
1/2 tsp. Added Old Bay seasoning for serving
Halal salt (optional)
FOR SHRIMP FILLING
Extra-virgin olive oil, 1 tablespoon
1 pound. tiny shrimp, peeled and deveined, tails removed, 1 small green bell pepper, diced, and 1/2 yellow onion, finely chopped
1/8 teaspoon cumin powder
Paprika, 1/4 teaspoon
Halal salt
freshly ground black pepper
FOR ASSEMBLING BURRITO
4 big warmed flour tortillas
1 cup of long-grain white rice that has been cooked and 1 cup of washed and drained black beans
Mexican cheese chopped into 3/4 cup
1 cup of chopped lettuce
1 cup of drained pico de gallo
2 tablespoons of finely chopped chives and 1 avocado, with extra for serving
Instructions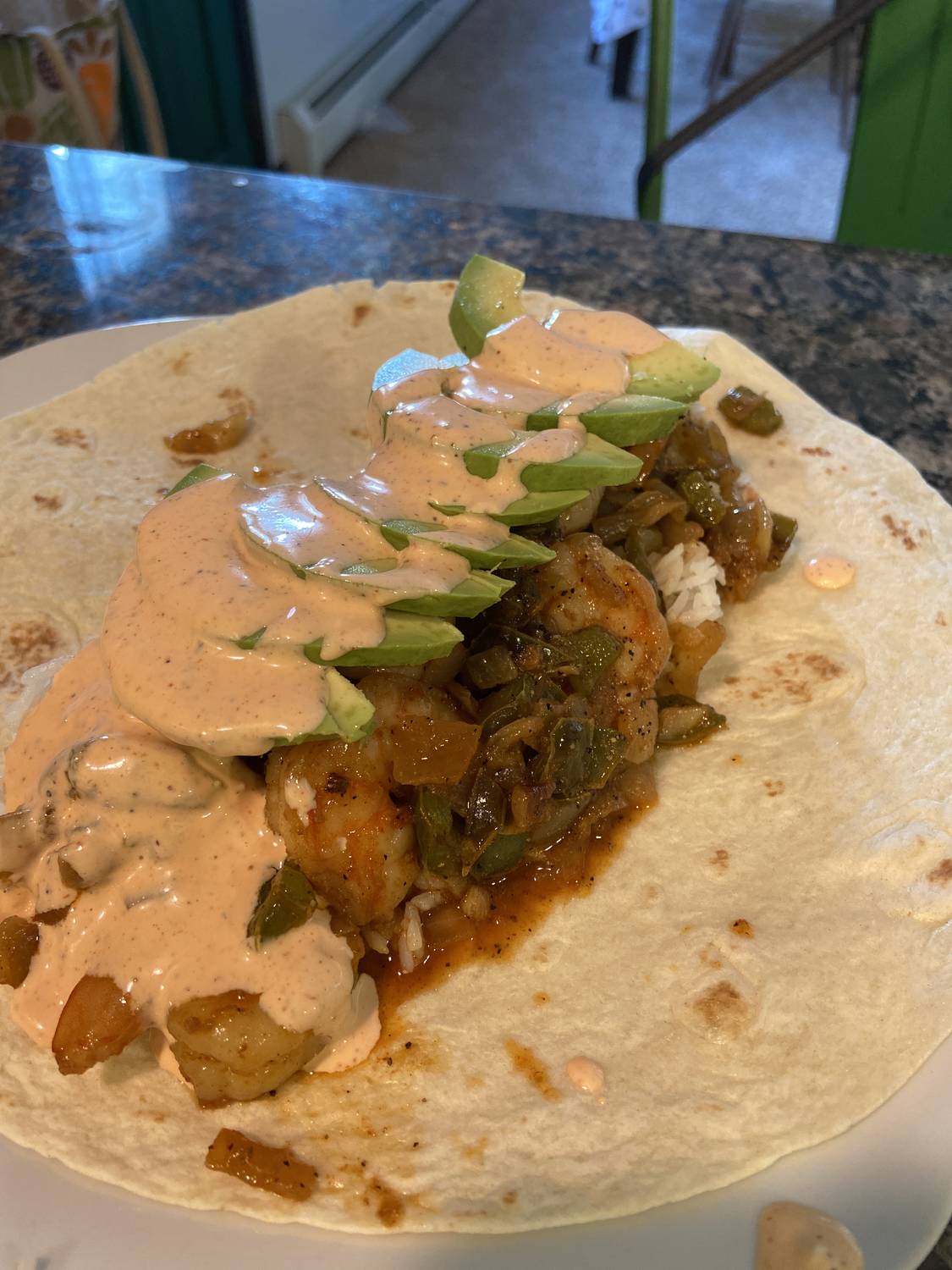 First, make aioli: Combine Old Bay, 1 teaspoon water, Sriracha, lime juice, and mayonnaise in a bowl. Salt can be added if you like.
Secondly, Prepare the shrimp filling: Oil, onion, bell pepper, and garlic should be added to a large skillet heated to medium-high. Cook for about 2 minutes, stirring occasionally, until lightly golden. Add the paprika, cumin, shrimp, and stir. Add salt and pepper to taste. Cook, occasionally stirring, for about 4 minutes or until opaque and just cooked through.
Third, Put burritos together: Place a tortilla on a plate for serving. Rice and beans, 1/4 cup each, should be added. The shrimp filling, cheese, lettuce, pico de gallo, and avocado slices should be topped with one-fourth each. Drizzle with aioli and sprinkle with chives. Repeat with the remaining tortillas and ingredients before rolling the burrito tightly.
Finally, Divide each burrito in half and top with more Old Bay, chives, and aioli.