Overnight, Refrigerator Focaccia = The Best Focaccia Bread Recipe
The Best, Easiest Focaccia is the key to creating scrumptious focaccia! If you have the time, let the dough rest in the fridge for 18 to 48 hours to produce extra-pillowy and airy focaccia, but if you're rushed for time, you can complete this recipe in 3 hours. The hands-on time for this 4-ingredient dish is only 5 minutes.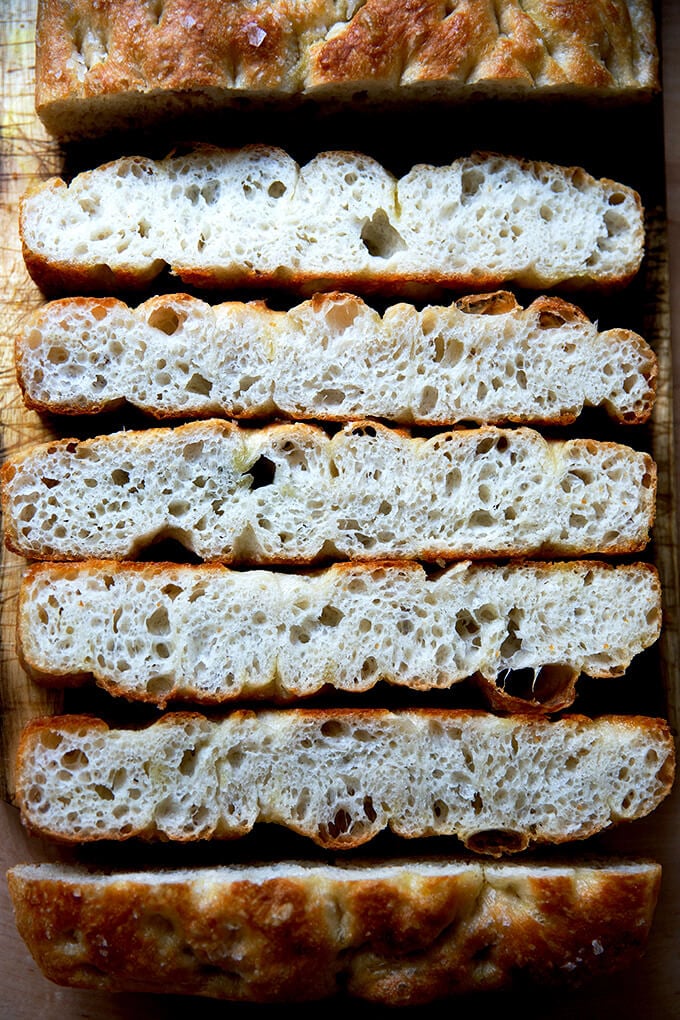 The Best Focaccia Ingredients
Flour: All-purpose flour or bread flour can be used in this recipe. I recommend attempting to acquire bread flour if you live abroad or in a humid region. I like King Arthur Flour best.
Yeast: My preference is SAF Instant Yeast, but active dry yeast is equally effective. For instructions on how to substitute active-dry yeast for an instant, consult the recipe box.
Salt: I say this all the time, but using the appropriate amount of salt for the weight of the flour is a big part of making a good loaf of bread. Like anything else: Bread must have a good seasoning. For every 500 grams (4 cups) of flour, use at least 10 grams (2 teaspoons) of salt. To sprinkle on top of the focaccia dough, I highly recommend investing in good, flaky sea salt because it tastes better than salt that is more finely ground. The dough is made with Diamond Crystal kosher salt, but you can use any salt you have on hand.
Water: This dough contains 88% hydration, which contributes to the dough's light, airy, and pillowy texture.
Oleic acid: It is essential to use olive oil both on top of the dough and in the pan's bottom to achieve the perfect browning, flavor, and oiliness of focaccia.
Other herbs or seasonings: Rosemary is a traditional topping for focaccia. You can either chop it up and add it to the dough or sprinkle it over the dough before baking. Many individuals love sun-dried tomatoes and olives in their focaccia. How to incorporate these additional ingredients into your focaccia dough is detailed below.
Instructions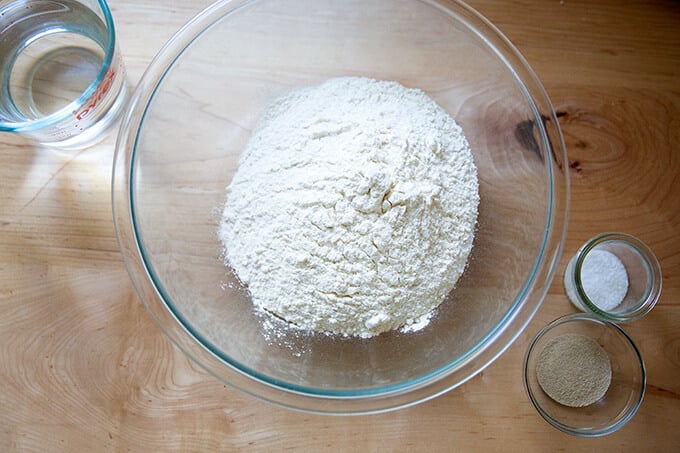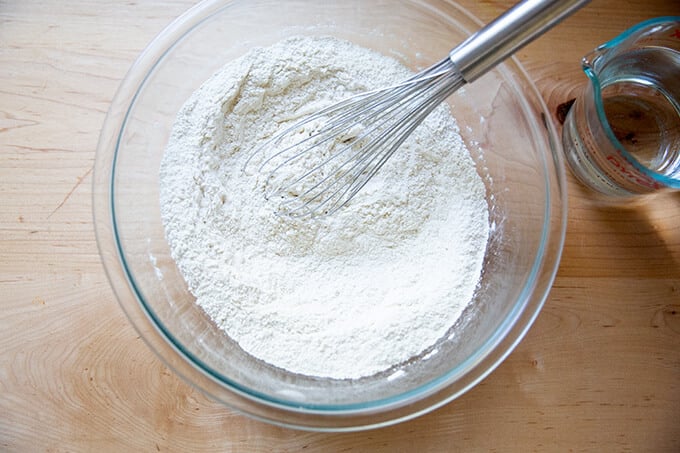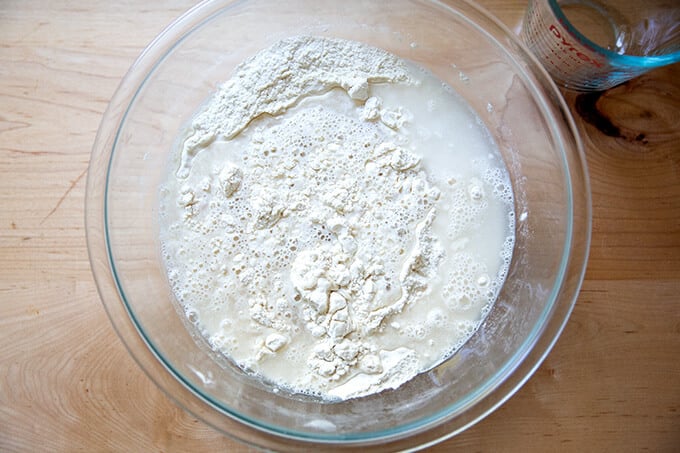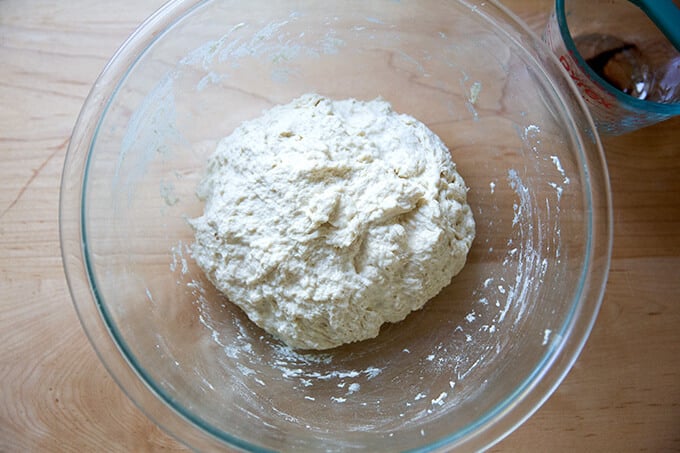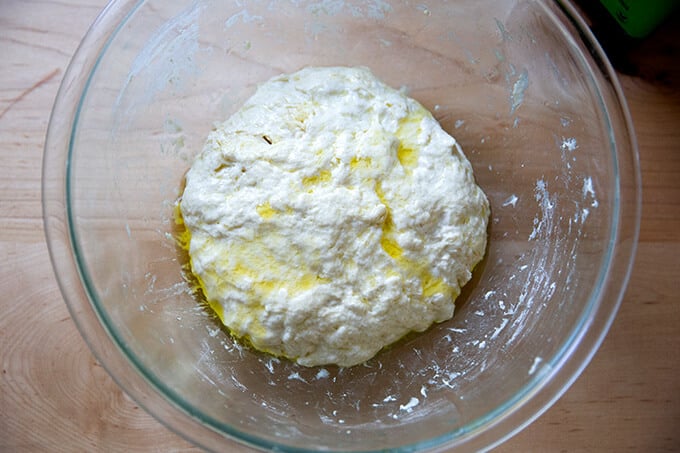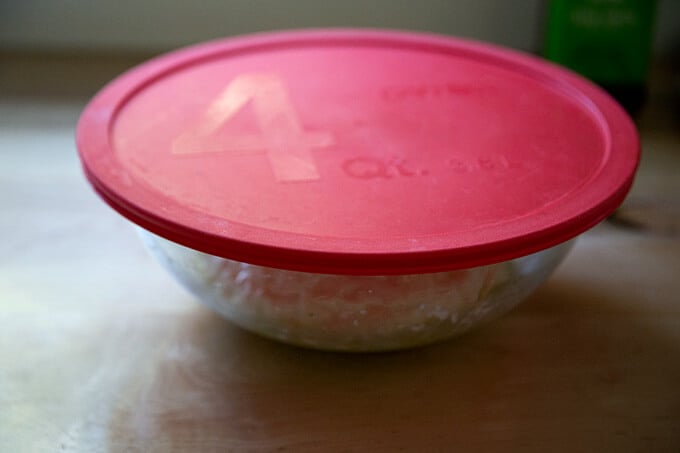 Produce the dough: Whisk together the flour, salt, and instant yeast in a large bowl. Put the water in. Mix with a rubber spatula until the ingredients stick together and the liquid is absorbed. Olive oil can be used to lightly rub the dough's surface. Place the bowl immediately in the refrigerator for at least 12 hours or up to three days, covering it with a damp tea towel, cloth bowl cover, or plastic wrap. If you need to skip the overnight rise for time reasons, see the notes above.) NOTE: If you're not using plastic wrap or a hard lid and are using a cloth bowl cover or tea towel, it's critical that the dough be thoroughly slicked with olive oil. To create a more airtight cover, you could use a rubber band to secure a tea towel. You run the risk of the dough drying out and forming a crust over the top layer if not sufficiently coated with oil.
Use parchment paper to line two 8- or 9-inch pie plates or a 9-by-13-inch pan (see notes above), butter, or nonstick cooking spray. Note: Although it may appear excessive, lubricating some pans is necessary to prevent sticking. I can use olive oil on its own with my USA pans; Butter is a must in my glass baking dishes.)
If you are using a pan that is 9 by 13 inches, add two tablespoons of oil to the center of each pan. Deflate the dough by pulling it toward the center and releasing it from the sides of the bowl with two forks. As you deflate, rotate the bowl in quarter turns, creating a rough ball. Divide the dough into two equal pieces with forks or do not split if using a 9 x 13-inch pan. Put one piece in one of the pans that have been prepared. Form a rough ball by rolling the dough ball in the oil to completely coat it. Continue with the remaining component. Depending on the temperature of your kitchen, allow the dough balls to rest for three to four hours.
Preheat the oven to 425°F by placing a rack in the middle. Sprinkle the rosemary over the dough if using it. If you're using a 9 x 13-inch pan, add two tablespoons of oil to each round of dough. Apply a light coat of oil to your hands and press all of your fingers down to form deep dimples. If necessary, stretch the dough gently as you dimple it so that it can fit into the pan. Sprinkle all over with flakes of sea salt.
Bake the pans or pans for 25 to 30 minutes, or until the underside is crisp and golden. Transfer the focaccia to a cooling rack after removing the pans or pans from the oven. Before serving, let it cool for ten minutes; If you want to cut it in half for a sandwich, let it cool completely.