SLOW COOKER FOUR CHEESE MAC AND CHEESE
Slow cooker four cheese mac and cheese – No tension. No boil. Everything is just dumped in. Including the raw noodles!
To be quite honest, I have been considering Thanksgiving since March, so October is not at all early.
As well. Mac and cheese are always in season. It simply isn't. Additionally, I much prefer to prepare it in a slow cooker.
One pot is used. zero boils. And no tension. Everything is literally thrown in at once, including the uncooked macaroni, cheese, milk, and spices.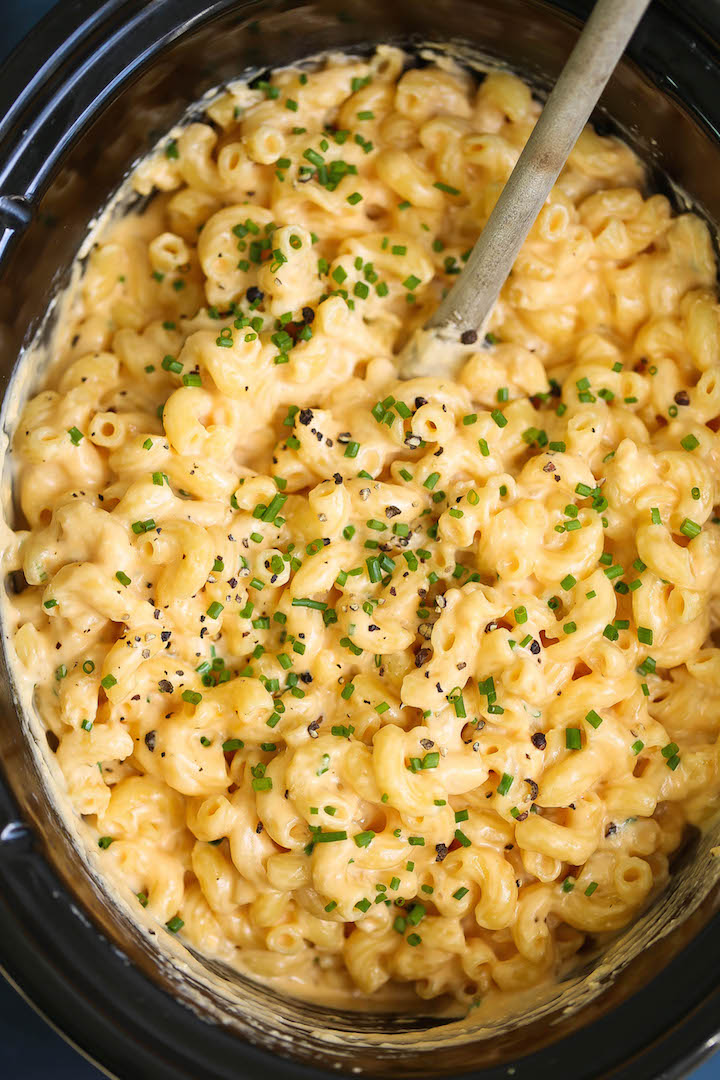 Slow cooker four cheese mac and cheese Ingredients
Medium elbow macaroni, 1 pound
2 cups of strong cheddar cheese, divided into thirds
American cheese, grated, in two cups
diced 4 ounces of cream cheese
freshly grated Parmesan, half a cup
3 glasses whole milk
1 12-oz. can of evaporated milk
Dijon mustard, two tablespoons
Paprika, half a teaspoon
One-half teaspoon of onion powder
freshly ground black pepper and kosher salt, to taste
2 teaspoons freshly chopped chives
Instructions
In a 4-quart slow cooker, combine the macaroni, 1 cup of cheddar cheese, American cheese, cream cheese, and Parmesan.
Make sure the macaroni is completely covered with milk, evaporated milk, Dijon, paprika, and onion powder before adding the other ingredients season to taste with salt and pepper.
Cover and cook, stirring every hour, on low heat for 90 to 2 hours and 30 minutes until tender and creamy*. Stir in the remaining 1 cup of cheddar cheese after removing the cover, about 2 to 3 minutes, until melted. Add more milk as needed if the mixture is too thick.
If desired, serve immediately with chives as a garnish.