Zucchini Mushroom Chicken Stir Fry
The Zucchini Mushroom Chicken Stir Fry recipe is filled to the brim with flavor in every bite! One skillet, 20 minutes, and a small number of supplies from your cupboard are all you need.
Every mouthful of this quick recipe for Chicken Stir-Fry with Zucchini and Mushrooms oozing with flavor! One skillet, 20 minutes, and a small number of supplies from your cupboard are all you need.
Zucchini Mushroom Chicken Stir Fry Ingredients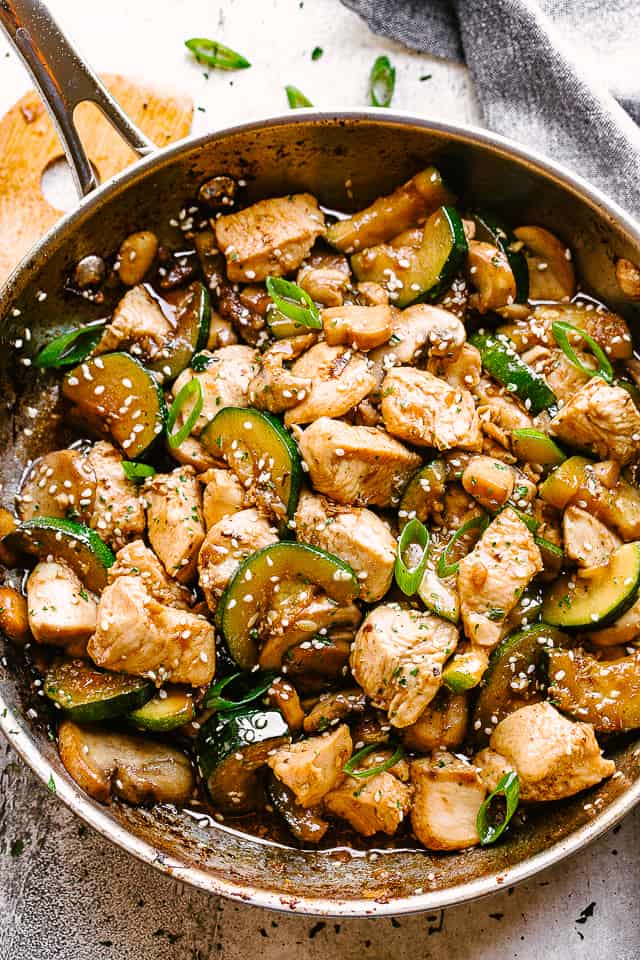 Use boneless, skinless chicken thighs instead if you want. 1 pound of boneless, skinless chicken breasts chopped into bite-sized cubes.
2 tablespoons vegetable oil
1 tablespoon minced garlic
1/2 tablespoon fresh minced ginger
1/2 teaspoon ground ginger
8 ounces white button mushrooms, sliced
1 zucchini, sliced into 1/4-INCH thick half moons
3 tablespoons gluten-free low-sodium soy sauce
1 tablespoon rice vinegar
2 teaspoons sugar sprinkle of toasted sesame seed oil, for garnish, optional sesame seeds, for garnish
Instructions
Combine cornstarch and chicken pieces in a bowl; toss for a coat.
In a large skillet or wok, heat vegetable oil to medium-high heat; Cook the chicken pieces in the hot oil for 6 to 8 minutes, or until they are cooked through and browned on both sides.
Set aside the chicken from the skillet or wok.
Add the ginger and garlic to the skillet and turn the heat down to medium-low;stir for just 20 seconds, or just until fragrant, during cooking.
Stir in the zucchini and mushrooms as you raise the heat to medium-high.cook until fork-tender and browned, about 4 minutes.Frequently stir.
In the meantime, combine the sugar, rice vinegar, and soy sauce in a small mixing bowl.
Return the chicken to the skillet and stir.
Stir in the prepared soy sauce to coat the vegetables and chicken.
Stir and cook for 30 seconds to 1 minute, or until the sauce has slightly thickened and everything is heated through.
Take off the heat; sprinkle with sesame seeds and oil.
Serve with scallions as a garnish.
NUTRITION
Serving: 
6
ounces
 | 
Calories: 
246
kcal
 | 
Carbohydrates: 
11
g
 | 
Protein: 
27
g
 | 
Fat: 
10
g
 | 
Saturated Fat: 
6
g
 | 
Cholesterol: 
73
mg
 | 
Sodium: 
670
mg
 | 
Potassium: 
756
mg
 | 
Fiber: 
1
g
 | 
Sugar: 
5
g
 | 
Vitamin A: 
132
IU
 | 
Vitamin C: 
12
mg
 | 
Calcium: 
20
mg
 | 
Iron: 
1
mg
 | 
Net Carbs: 
10
g